Truck Rental near Horsham PA

On the hunt for a truck rental near Horsham? You've come to the right place! At Sussman Car Rentals, we offer a wide selection of rental vehicles including a handful of powerful and capable trucks that are perfect for your next project or out-of-town adventure.
On this page, you'll learn more about the rental trucks that we have available as well as our simple and easy truck rental process. Read ahead to learn more!
Why Pick a Pickup Truck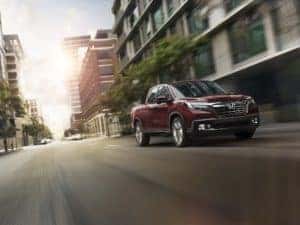 There are many different reasons to choose a rental pickup truck. For starters, renting a vehicle helps to preserve the quality of the vehicle you own. By renting the vehicle, you place all those miles onto another vehicle so you can have your vehicle longer. Plus, you won't feel limited because you don't have to worry about vehicle preservation.
Renting a pickup truck specifically opens a lot of doors for drivers because you have the spacious cabin you need on top of incomparable capability.
At our rental center, we offer all kinds of vehicles to rent including late-model pickup trucks like the Honda Ridgeline. As a self-proclaimed all-duty pickup truck, this model is not only capable when it comes to towing and hauling, it also provides plenty of tech and premium comfort features to cater to the needs of both drivers and passengers.
With this model, you'll have up to 5,000 pounds of trailering capability when properly equipped at your fingertips as well as various advanced features like the Honda Sensing® suite, turn-by-turn navigation, and smartphone app integration.
Truck Rentals Made Simple
No matter which vehicle you choose to rent with us, we want to get you out on the road as quickly as possible. To ensure that you stay on schedule, we've simplified the rental process as much as possible. First, you'll need to gather up a few important documents:
A valid driver's license showing you're at least 25 years old
Proof of driver's insurance
A hold on a major credit card
With these three things in hand, come into our rental center and meet with one of our friendly rental professionals. They'll run you through our policies, assist you in signing the paperwork, and hand over the keys.
Then, all you'll need to worry about is bringing the vehicle back with a full tank of gas on the last day of your rental agreement!
Ready to Rent a Pickup Truck?
We at Sussman Car Rentals are so excited to help you make the most of your next project or vacation with a rental pickup truck. Now that you know a bit more about who we are and what we can do for you, we hope you're ready to get the rental process started.
Get the ball rolling right now by browsing our available rental trucks right on our website. Reserve it ahead of time or come into the rental center to put together your rental agreement with one of our rental professionals! Reserve your rental today!