Minivan Rental near Jenkintown

On the hunt for somewhere to rent a minivan near Jenkintown? You've come to the right place! At Sussman Car Rentals, we provide renters with quick and easy service to ensure that you can get on your way as quickly and possible.
On this page, you'll find more information about the many rental minivans we have to offer as well as our simple and easy rental process. Read ahead to learn more about how we can get you behind the wheel of the perfect rental minivan!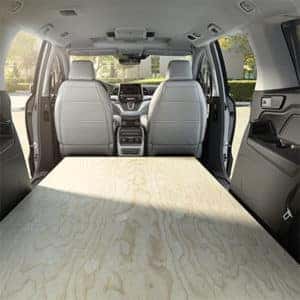 Minivans are known first and foremost for their incredible versatility. These spacious vehicles are useful for all kinds of reasons starting with family vacations. Renting a minivan means you'll be able to fit the whole family along with all of your stuff in one vehicle. Head to the shore, the amusement park, or out camping without a hitch.
Speaking of a hitch, you can also use most minivans to tow things. Hitch a cargo trailer to a minivan, and you have your own moving machine. Even without the trailer, you'll have plenty of space in the cabin to move all kinds of boxes and small furniture.
When you're in a pinch while your vehicle is in the shop, a rental minivan is a great go-to. Their versatility allows you to get your errands done and stay on schedule easily.
Whatever the reason you need to rent a minivan for, we have the minivan for you. At our rental center, you'll find a variety of minivans from manufacturers that you know and love. No matter the occasion, we'll get you set up with the perfect minivan rental.
Our Simple & Condensed Rental Process
When you rent your next minivan with us, you can count on the process being short, sweet, and to the point. First, gather up these three important documents:
A driver's license showing you're at least 25 years old
A major credit card
A full-coverage insurance policy with proof of insurance
Then, come into the rental center and meet with one of our rental professionals. They'll help you pick out the right vehicle for your needs and walk you through the paperwork.
After that, all you have to worry about is enjoying your time behind the wheel and bringing the vehicle back on the right day with a full tank of gas.
Learn about our pricing here!
Ready to Rent a Minivan with Us?
We at Sussman Car Rentals are thrilled that your search for your next rental minivan brought you to us. As you can see, we offer an excellent selection of minivans to choose from as well as the simple rental process you need to get on the road as soon as possible.
Now that you know a bit more about what we can do for you, we hope you're ready to get the rental process started with us. Browse the vehicles we have available right on our website. Then, give us a call at the rental center to start your reservation!
Schedule your rental online here!